Wyoming isn't wine country (though some intrepid growers might disagree). It's wool country.
As of the 2017 Census of Agriculture, Wyoming ranked number one in domestic wool production. But most of that wool is sold as a commodity in an international market, leaving the state before it is processed.
The Wyoming Wool Initiative sees this situation as an opportunity. It all started with a simple question, explains Whit Stewart, head of the UW Sheep Program and co-founder of the project: How do we help people get more for their wool?
Already a leader in the sheep industry, Wyoming is uniquely positioned to expand its impact. "With supply chains being disrupted and the world changing so quickly, the timing is right to take a different look at how we add value to our wool clip," Stewart says. "What if we expanded markets, allowed producers to get involved in the value-added phase?"
Launched in summer 2022, the Wyoming Wool Initiative is a nonprofit supported by the University of Wyoming College of Agriculture, Life Sciences and Natural Resources; University of Wyoming Extension; Mountain Meadow Wool; and other partners. Its mission is to lead innovative research and programming that promotes and expands Wyoming's sheep industry.
The Wyoming Wool Initiative's current projects include the Wyoming Blanket Project, Lamb-a-Year program, and two sock production ventures. Testing of blockchain technology and a first-stage processing feasibility study are also underway.
The initiative is sustained by donations and the sale of locally produced wool products. Funds are used to support student internships and graduate assistantships; travel for wool judging competitions; and research and development for wool processing and manufacturing.
Fabric of the rural West
Stewart's quest to help Wyoming get more for its wool began in 2021 with a pile of warm, durable—and 100 percent Wyoming-made—wool throws.
He and Scott Lake, director of the Laramie Research and Extension Center, forged a partnership with Mountain Meadow Wool Mill in Buffalo to produce blankets using wool from the UW farm in Laramie. Lindsay Conley-Stewart, project manager of the Wyoming Wool Initiative, designed the first limited edition blanket.
The pilot program proved to be a success, with 300 blankets sold to patrons in 29 states across the U.S. and internationally. Proceeds were used to support summer internships, travel costs associated with UW's wool judging program, and research conducted by graduate students in UW's sheep program.
Now part of the Wyoming Wool Initiative, the Wyoming Blanket Project will feature a new blanket design each year. This year's throw, nicknamed "Wyoming Gold," measures 55 by 70 inches.
Blankets can be purchased online at bit.ly/wy-blanket-project-2022, starting August 23.
Marketing traceability with blockchain tech
As "made in the U.S." labels dwindle, making a product in Wyoming start to finish is already an accomplishment. But the Wyoming Wool Initiative is taking the concept a step further, experimenting with blockchain technology to document stages of production.
Blockchain is a digitized database that is shared and modified cryptographically, with the goal of improving product traceability, explains graduate student Courtney Newman, who is leading the traceability component of the initiative.
Blockchain-based traceability frameworks have the potential to increase transparency between producers, processors, and consumers. Newman's graduate work focuses on identifying where and how traceability records can add value—and whether it is cost effective for producers to utilize this new tool.
"The second run of the Wyoming Wool Initiative Blanket project is our first complete transparency loop from sheep to finished blanket and we hope consumers think it's as cool as we do!" Newman shares.
Dates, details, and processing information were recorded for each of the five stages of blanket production: shearing, first-stage processing, dyeing, spinning, and knitting.
Upon purchasing a blanket, customers can enter their blanket's number on sheepchain.org and trace its production journey. Videos of each processing stage are also available.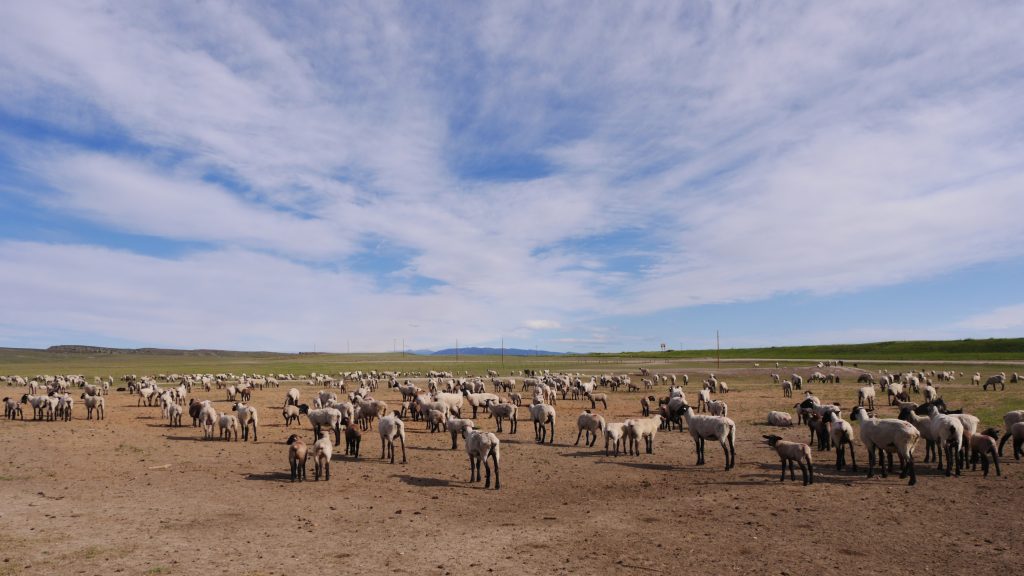 Launching the Lamb-a-Year program
While "Steer-a-Year" programs are common across the U.S., the Lamb-a-Year project is one of the first of its kind, says project manager Conley-Stewart.
The program, established in 2022, connects producers with UW students interested in the sheep industry. Participating producers donate a minimum of five lambs, which will be transported and finished at Double J Lamb Feeders in Ault, Colorado, in the fall.
As a part of the inaugural Lamb-a-Year course, UW students will be involved in the finishing and harvesting phases of lamb production. They will visit Double J Lamb Feeders multiple times to evaluate animal performance and learn about the lamb feeding industry.
Students will also collect carcass data at a lamb processing plant in Denver, which will be shared with participating producers.
Let's knock some socks off
The Wyoming Wool Initiative is currently involved in two sock-related endeavors, one in partnership with Mountain Meadow Wool and another with GRIP6, a Utah startup that manufactures belts, wallets, socks, and other items made in the U.S.
The initiative recently purchased a heavy-duty boot sock machine that will be housed at Mountain Meadow Wool Mill. The new equipment is intended not only for teaching purposes but also to investigate whether value-added processing can be cost effective at a small scale, explains Stewart.
The Wyoming Wool Initiative is also working with regional partners like GRIP6 who share an interest in developing first-stage processing facilities.
In the wool industry, first-stage processing includes cleaning, or scouring, raw wool, then preparing the wool for spinning via combing and carding. Currently most Wyoming wool does not undergo this kind of processing until after it leaves the state.
GRIP6 is slated to release a new run of socks promoting the Wyoming Wool Initiative in fall 2022. While these socks will not be made exclusively with Wyoming wool, the company shares a commitment to expanding value-added manufacturing opportunities in the western U.S.
Investigating first-stage processing feasibility
Back on campus, the Wyoming Wool Initiative is partnering with the UW MBA program to assess whether building and operating a first-stage processing facility in Wyoming is a viable business venture.
"MBA students will be working on evaluating the business case for implementing first-stage processing of wool in a new regional study," explains Benjamin Cook, director of the UW MBA program. The idea is to build a business argument for advancing the wool-processing industry in Wyoming.
The feasibility study, funded with donations to the College of Business through the University of Wyoming Foundation, qualifies as an experiential learning project. Two to four MBA students will work on the study part-time during the upcoming fall semester.
They'll begin by evaluating the size of the market and examining the volume of state and regional wool production to define the ideal size of the facility. They will also collect data on the costs of equipment, land, labor, and inputs like electricity, water, and detergents for cleaning the raw wool.
Members of the wool initiative team, including Whit Stewart and Scott Lake, will serve in an advisory capacity.
Preliminary results should be available by the end of the fall 2022 semester. "Both 'yes' and 'no' answers give good information," says Cook. "'No' just means we need to look at other ways—it's the process of elimination. Sometimes, the answer is not right now, but maybe five years from now."
Funds permitting, he'd like to see ongoing collaboration between the Wyoming Wool Initiative and UW College of Business. Once the initial feasibility study is complete, MBA students could potentially dive into topics like entrepreneurship, product innovation, and strategies for expanding the region's wool market and profit margins.
Honoring the past, leading the present
Wyoming already knows how to raise quality sheep and produce high-caliber wool.
The Wyoming Wool Initiative wouldn't exist without the state's rich tradition as a leader in the sheep and wool industry—or without the ongoing work of today's producers and researchers.
Going forward, the plan is to establish an advisory committee made up of ranchers, processors, and wool warehousers to guide the initiative. Ultimately, the goal is to build on the unique heritage of Wyoming's wool industry to support its future.
"We don't often celebrate the ag products that come from our land, our region," Stewart reflects. "A lot of what we're doing with this project is helping solve problems, but we're also celebrating an industry that's been important for a long time."
To learn more about the Wyoming Wool Initiative, please visit bit.ly/wy-wool-initiative or contact woolinitiative@uwyo.edu.