An effort by the University of Wyoming Extension and Wyoming 2-1-1 to increase COVID-19 vaccination rates in Wyoming is appealing to the state's individualism but also its reputation for neighbors looking out for neighbors.
Information about Vaccinate Up is at www.uwyo.edu/uwe/vax-up.
"The choice to vaccinate is a personal one, but one that has communal impacts," said Kali McCrackin Goodenough in the College of Agriculture and Natural Resources. "Our work to increase confidence in COVID-19 vaccination is built on the Wyoming spirit of taking care of each other and protecting one another."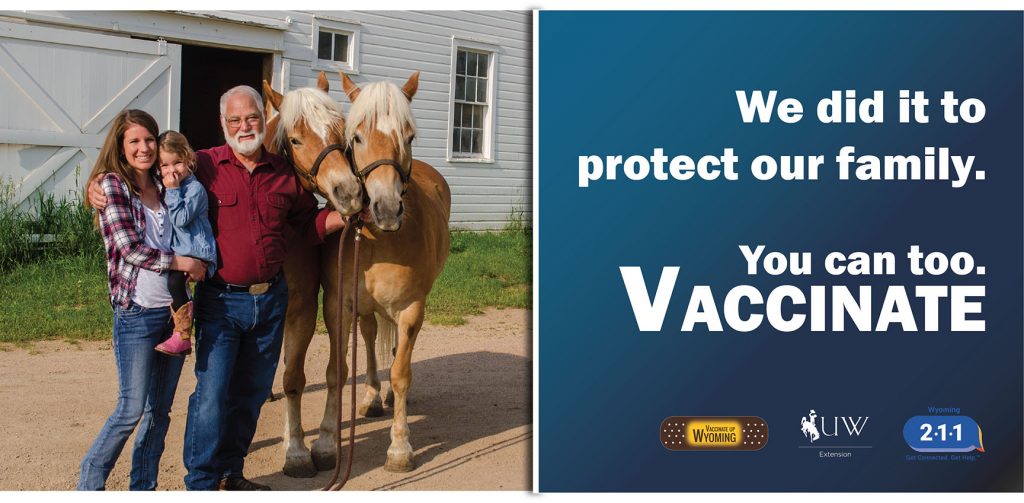 Wyo Cross
"Wyo Cross"
is a
limited-edition
throw, knitted solely from wool produced by
UWYO's sheep
raised at LREC in Laramie, Wyo. This throw is 100% Wyoming made. UWYO wool was processed into yarn and knitted into throws by
Mountain Meadow Wool
in Buffalo, Wyo. Proceeds from these throws will be used to create a
legacy for the sheep industry
, as they will allow for further research, teaching and outreach.
Animal Science Livestock Center
The Animal Science Livestock Center at the Laramie Research and Extension Center was constructed in 1990 at a cost of 4.34 million dollars. The facilities consist of 12 buildings including a temperature modified lambing barn, beef and sheep sheds, a wool laboratory and classroom, a sheep handling building, a sheep confinement building, a multipurpose building, a swine confinement unit, and a state-of-the-art feed mill. The
UWyo Wool Throw project
will help to support and fund further research efforts to support Wyoming's sheep ranchers. The wool for each blanket comes from the University of Wyoming's heritage breed of sheep developed at UWYO 100 years ago.
Courtney Newman
Courtney Newman of Fort Collins, Colo. plans to further explore blockchain applications within the sheep industry as a graduate student at UW. Funding from the wool blanket project will help provide more opportunities for students like Courtney to conduct research to help progress the sheep industry and provide real world experiences for undergraduate students.